Earth Day - Altterre's environmental responsibility
                                  Altterre's
                            environmental
                              responsibility






Team Altterre wishes to mark Earth Day not only today, April 22, but every day as well.
So it was in the rain on Tuesday that we went to pick up the garbage behind the building where our office is located. Needless to say that our presence was welcome!
We firmly believe that as a company we have an environmental responsibility and that is why we participate in actions to take care of our planet.
We are continually wondering about ways to make Altterre more eco-responsible, while reducing our ecological footprint. This environmental aspect comes first through our products, since our mission is to manufacture training equipment from recycled materials. In fact, we have now recycled over 3,000 used car tires, thanks to your interest in our training bags!
On the other hand, we strongly believe that the environmental responsibility of companies goes beyond the ecological aspect of the products / services they offer.
With Les pages Vertes - Eco-responsible companies plateform, we have calculated our eco-responsible rating, which is 65%. Our goal is to improve this percentage by 20% over the next year, both through our business activities and through several small, simple, everyday gestures.

Because Earth Day is 365 days a year! We invite you to participate in the movement with us and collect waste in your community.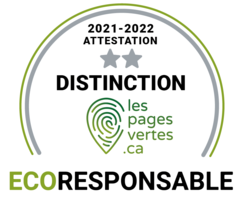 How does Altterre concretely integrate eco-responsibility and sustainable development?
By using recycled materials to create our products. Recycled tire rubber and post-industrial sand, which we use to fill training bags, are considered waste for other organizations. Furthermore, our weighted ball is fill with scraps of recycled fabrics from a Quebec company.
By the locality of the products. Right now the inside of training bags and weight discs is 100% local. We are currently working to make the external bag also local and sustainable.
Through our collaboration with Groupe TAQ, a socio-professional integration company for people with functional limitations. They subcontract the filling of our training bags.
Through research and development, in collaboration with Recyc-Québec, for a new way of transforming recycled tires into sustainable training products.
Through small internal actions, such as: managing our corporate waste, reducing our energy consumption at the office, adopting the "paperless" practice, increasing work at home for employees, etc.
---